On Saturday June 27th, The Veronicas played their first-ever show in Vancouver to a sold-out crowd at the newly renovated Venue Nightclub (formerly Plaza Club).  The Australian duo broke into the North American circuit with the song '4ever' from their debut album back in 2005, and they are currently heating up the chart with the title-track from their sophomore effort, 'Hook Me Up'.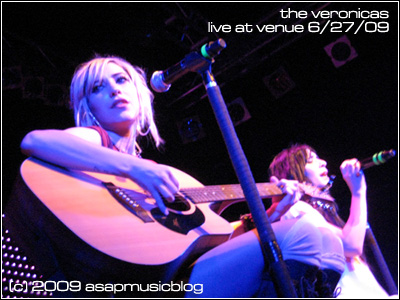 Carney started the night off with a short three song set list, and then made room for the second band of the night, The Pretty Reckless. Cute note: Lisa of The Veronicas stood on the side of the stage to watch Carney's set (her boyfriend is Reeve Carney).

If you haven't heard the buzz surrounding The Pretty Reckless, it's probably because you don't watch Gossip Girl. The front-woman (or girl?) for the band is none other than Little J herself, but she prefers that you call her Taylor Momsen. The Pretty Reckless played five songs, including the very catchy 'Good Girls Go to Heaven', and Momsen wore a very short, lingerie-style dress that seemed a bit inappropriate for her 16 years of age, but hey, rockstars wear what they want.

And onto the main attraction, The Veronicas started off their set with 'Untouched', immediately amping up the crowd up and the atmosphere. There was a even mix of songs from both their debut album and their sophomore album. Both Lisa and Jess made great efforts to connect to their fans in the audience, and at one point leaned in to hug a fan in the front row. One of the highlights of the night were the acoustic performances of 'This Love' and 'Heavily Broken'. The girls normally have a longer set, but were forced to shorten it due to time restraints because it was the grand opening of Venue.

The Veronicas definitely left fans wanting more, but the girls will be joining Kelly Clarkson on her tour this Fall. So who knows, maybe Vancouver will be lucky enough to have The Veronicas back.