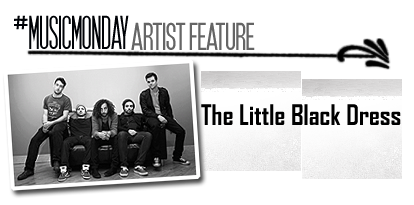 Hometown: Toronto, Ontario | Label: Independent
Website: http://thelittleblackdressmusic.com
The Little Black Dress is more than a piece of apparel – it is in fact a five-piece band from Toronto consisting of Dan Sadowski (vocals/guitar), Kyle Hohmann (keys/synths/vocals), Brian Seligman (guitar), Damian Dobrowolski (bass), and Lewis Spring (drums). The LBD was first brought to my attention a few years ago, when I noticed the connection between Dan and Kyle with fellow Canadian artist Jesse Labelle – as they were part of his backing band while he was on tour. Connection aside, The LBD have built quite the following in their hometown, selling out local shows and with the support of their own fan army.
Their debut album, Spotlight, was released last month – and for an independent release, it is quite impressive and is best described as energetic/pop rock. The material on the album is full of punch, and would translate well towards a live show. Though it was hard to narrow down to pick a favourite track on the thirteen-track album, my top picks are "Call The Paparazzi" and "Radio" – the latter would fit seamlessly on its namesake. The album is currently streaming on the band's website, which you can check out here.
The cohesiveness of the band, along with Sadowski's vocals, are certainly the prime features of The Little Black Dress. Though I haven't seen the band live yet, it is easy to see why they sell out shows, and why they have earned themselves a legion of dedicated fans. Watch out TLBD, the "Spotlight" is on you.