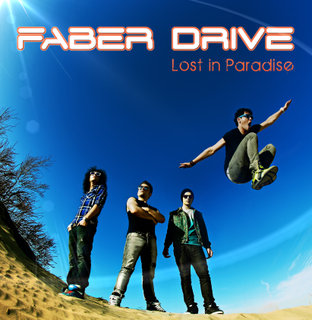 Faber Drive sets the tone with their third studio album Lost In Paradise. It has been three years since the band released their sophomore album can'T KeEp a SecrEt, and they continue to develop their electro-pop sound, with radio-friendly hits waiting to be played and danced to. The first single, 'Do It Like Hollywood' is both an observation and a salute to the Los Angeles party scene.
Whether a party song or a ballad, Faber Drive has a sound that is recognizable. One of my favourite tracks off the album is 'Life Is Waiting' – co-written and co-produced by Andrew Goldstein. Paradise has been three years in the making, and each of the ten tracks are representative of the stories that the band has collected over time, and of the music that they are set out to make.
There are an impressive number of writers and producers along with Goldstein (Hot Chelle Rae) who have contributed on Paradise, including Ryan Stewart (Carly Rae Jepsen) along with Pierre Bouvier and Chuck Comeau of Simple Plan. Despite this list, don't be mistaken – Faber Drive can certainly hold their own in the writing department, as well as on the charts.