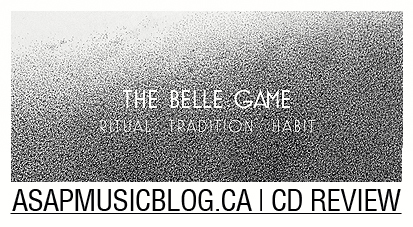 Today marks the release of The Belle Game's first full-length album, Ritual Tradition Habit. A long time local favourite, The Belle Game has certainly grown musically as a band since their Inventing Letters days, adding new members to the original line-up of Adam Nanji (vocals, guitar), Andrea Lo, (lead vocals), Alex Andrew (rhythm guitar), and Katrina Jones (piano, back-up vox). Rounding off the rest of the band are newer additions Rob Chursinoff (drums) and Marcus Abramzik (bass).
There is a depth to Lo's vocals that transcends the soundscapes that the band has built on their dark pop base. The title of the album actually refers to three individual songs that frame the band's tracklist, the layering and weaving together of sounds, textures, and shimmering melodies bring upon a unique musical experience. The Belle Game succeeds in the detailing the fabric of their first full-length release.
Key Tracks: Wait Up For You, Bruises To Ash, Keeps Me Up At Night
Ritual Tradition Habit is available now on iTunes, and via the band's website: http://thebellegame.com.